WHAT IS
Treadfit is an innovative fitness facility that provides customized workouts from certified trainers. Each class will improve your overall fitness level using interval training on the treadmill, coupled with full-body strength training. At Treadfit, no class is ever the same!
The Workout
: Each 50-minute Treadfit workout incorporates periods of intense anaerobic exercise with periods of recovery and strength-building exercises. This high-intensity interval training has been proven to increase endurance and improve fat burning -
resulting in a stronger, faster, and leaner you!
Each client will receive a heart-rate monitor to track heart rate zones and accurate calorie burn. Throughout the 50-minute workout, clients will strive to complete 10 to 18 minutes of training at 84% or higher than maximum heart rate. Hitting this target will produce an increased metabolic rate for 24 to 36 hours after the workout. Clients on average will burn between 400-800 calories per class.
Everyone is welcome at Treadfit
: walkers, joggers and hardcore runners. You pick your easy pace - a pace you can keep for one hour - and the workout builds from there. Classes are open to all adults and teens, ages 16 and older.
Class Signup & Schedule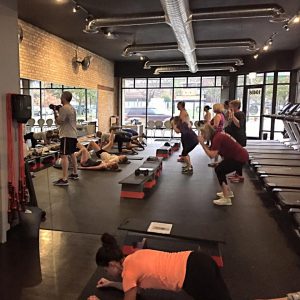 PRICING
5 Class Pack
$75
10 Class Pack
20 Class Pack
$240
20 Class Pack
(military, police, fire, and teachers)
$220
Monthly Membership
$145
Class Signup & Schedule
JENNY HARKINS
Jenny, an ACE certified group instructor and owner of Treadfit, is a life-long Beverly resident with over twenty-five years of running experience. After training and running in five marathons and several half marathons, she began experimenting with shorter bursts of high intensity running mixed with strength training. She saw dramatic improvements in her fitness level, and decided to leave distance running behind. Jenny brings her love of running and fitness to the unique format of Treadfit's workouts.
KELLIANNE MCDONOUGH
Kellianne is a certified ACE group instructor and brings her passion for fitness into each and everyone of her classes. She has been active all of her life as a swimmer, runner, and triathlete however found her true passion in group fitness classes. Kellianne pushes clients to reach their maximum potential by providing a high-energy and motivational environment. She is an active mom of two young boys and is thrilled to be part of the Treadfit team!
COLETTE FITZGERALD
Colette is a certified ACE personal trainer with over seven years experience as a personal trainer in the Beverly area. Colette specializes in the body's core muscles that are exercised in everyday life. She is a strong believer in helping her clients achieve their maximum fitness goals through a high energy approach to their exercise routine. Colette is an active mother of five and an amazing role model!
CATHY O'GRADY
Cathy, an ACE certified personal trainer, has over twenty years of experience in the fitness industry. Cathy has taught everything from kickboxing to yoga at multiple gyms such as Women's Workout World and L.A. Fitness. Cathy's love of exercise and enthusiasm are demonstrated in each of her classes.
CAITLIN CODY
Caitlin, graduated with a degree in Exercise Science and a minor in coaching and psychology. Being active in sports throughout her high school and college years, Caitlin brings her love of fitness to each class and encourages her clients to get stronger every day. Caitlin can also be found teaching Barre, Kickboxing, Tabata, and Bootcamp at Barre It All in Mount Greenwood. Caitlin is excited to join the Treadfit Team!
DAWN COURTNEY
Dawn is an experienced certified group instructor and a Treadfit regular. Dawn is a busy mother of two who incorporates fitness into her family's daily lives. She has been active in sports and fitness since her high school days, and brings her dedication to fitness and health to each of her classes. Dawn can also be found teaching spin at Pure Cycle in Evergreen Park.